PandwaRF is a family of pocket-sized, portable RF analysis tools operating the sub-1 GHz range.
It allows the capture, analysis and re-transmission of RF via an Android device or a Linux PC.
Practically, it removes the 'standard SDR Grind' of capturing, demodulating, analyzing, modifying and replaying by hand – replacing it with a simple but powerful interface.
The PandwaRF system consists of two elements: the hardware device and the software controller, either an Android device or a PC.
The hardware is a very capable device, tailored for beginners and advanced users alike.
Beyond the functionality provided by the Android interface, the PandwaRF can be easily controlled and customized. No need to risk bricking your device or writing in C, the PandwaRF can be controlled by JavaScript, directly on the smartphone.
a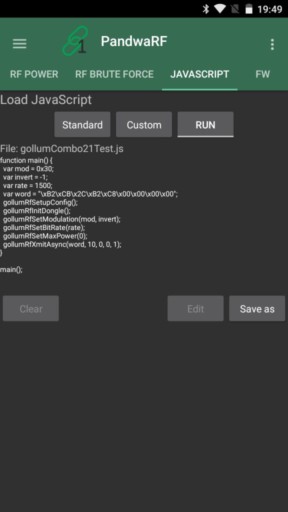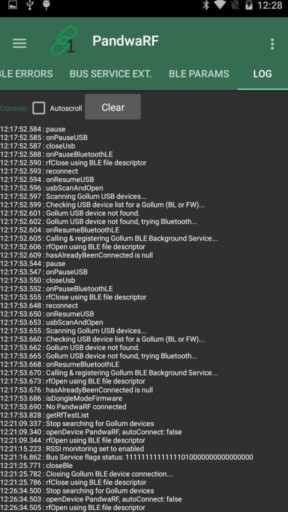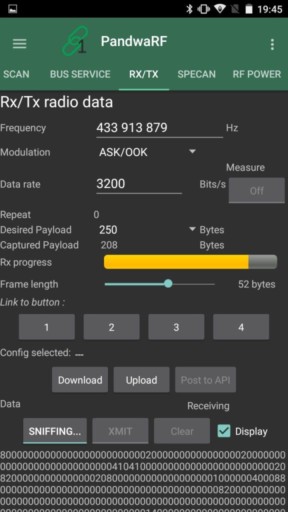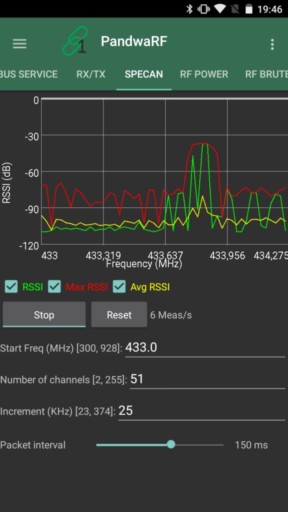 Features
Captured Data processing offload
Radio Scripting (JavaScript & Python)
De Bruijn attack (OpenSesame)
Rolling codes (gate openers)
Rolling codes (cars, alarms, …)
Long range portable version with case, battery & SMA connector
Battery included
Case included

Discontinued
Advanced brute forcing
Battery included
Case included
Advanced Brute Force
0ms delay between attempts
Function mask time optimization (2x-16x faster)
Including predefined coding patterns
Brute force task splitting
Multiband antenna pack included
Price: 550€
Autonomous capture of RF data
Battery included
Case included
Entirely autonomous
Replay from the same Marauder
Multi-frequency: 1-2 frequencies
Memory size: 256-512 captures
Multiband antenna pack included
Price: 790€-990€
Buy now

(EU orders)

(Non-EU orders)
Are you one of the following: police forces, law enforcement officials, security services?
Contact us if you are interested in additional features!
Note:
The VAT for EU countries is not included in the price and will be calculated in the next step. 

Bitcoin orders include the VAT for EU countries and the shipping costs for non-EU countries.

If you are buying on behalf of a company in the EU, please contact us to provide your billing information (including VAT number) and the VAT will not be charged. 

You are responsible for the payment of customs duties, which are not included in the shipping price. 

Currently not available for shipping to Russia.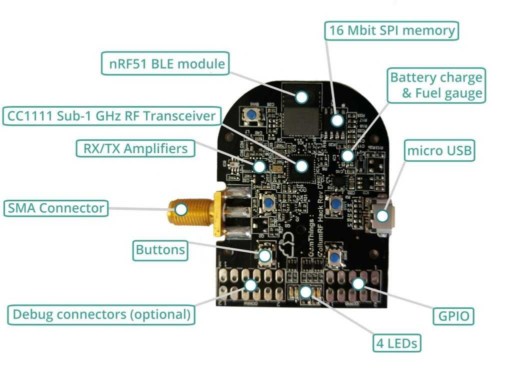 Bluetooth Smart Module ISP130301, based on nRF51

CC1111 Low-Power SoC with Sub-1 GHz RF Transceiver

Multi frequencies (from 300 MHz to 928 MHz)

Multi modulation (ASK/OOK/MSK/2-FSK/GFSK)

Transmit and receive in half duplex mode

Support data rates up to 500 kBaud
Full speed USB: 12 Mbps (Linux or Android)

Bluetooth Smart 4.0 (Android)

USB charging & battery powered

4 buttons to assign codes

16 Mbit Flash Memory to save custom RF protocols

Rechargeable battery powered for stand-alone operation
RX amplifier for improved sensitivity: +13dB from 300MHz-1GHz

TX amplifier for higher output power: +20dB @ 433MHz & +17dB @ 900MHz

SMA connector for external antenna

Antenna port power control for external LNA

22-pin expansion and programming header

Included: Battery and injection molded plastic enclosure

There was this huge Elven Door to enter my cousin's home, at Moria, and we couldn't find the key.
And this poofy Elf took his PandwaRF out of his bag and I laughed quite hard.
But the Door opened! It was incredible.
Then the Balrog came… Too bad that PandwaRF cannot kill Balrogs…

I spent my whole life not believing in the existence of the holy PandwaRF, but I couldn't find true happiness until PandwaRF spoke to me through its Android application, and after I read every verse of its Wiki, I knew that's what I should dedicate my life to.

Doctors hate me! You will never guess what I discovered to cure my disease with a little budget!!! I just bought a PandwaRF and it made all my problems go away. I feel now completely happy in my daily life thanks to it. But it's a secret!

I have discovered PandwaRF brings back your wife in 24 hours and sends diseases to your enemies. Thank you so much PandwaRF!
Welcome!
Leave us your e-mail and receive all the latest updates on PandwaRF.
Warning: 
PandwaRF is a test equipment for RF systems. It has not been tested for compliance with the regulations governing the transmission of radio signals. You are responsible for using your PandwaRF legally.
The intentional jamming of RF signals is ILLEGAL. PandwaRF is designed for low power jamming and shall only be used for testing the robustness of your own devices.
If you have any further questions, feel free to contact us at pandwarf@comthings.com.
Made with love and pain by