We already talked about the shipping conditions for the PandwaRF in an older post. Some of you might also be interested in how the Rogue Pro is shipped and the package content.
Some of the shipping conditions for the PandwaRF also apply for Rogue Pro. We ship to almost all the countries in the world and we only use express carriers like UPS or DHL. You also receive an email with the tracking number once your order has been shipped.
We personally prepare orders for shipping and we usually ship once a week. This means your order will probably be shipped within 1 week after you made the payment. However sometimes it may take up to 10 days (if you ordered when we were already preparing the previous shipping batch).
Here is what you will find in your Rogue Pro order.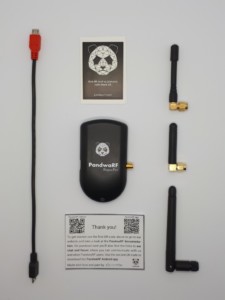 The device comes in a black case. Rogue Pro orders also include a multiband antenna pack and a USB OTG male-male cable. The antennas might vary in shape and size based on the supplier we use at the moment.
We also include some goodies and a few tips to get you started using the device.
We carefully prepare the orders for shipping and we use the most reliable carriers, giving you the possibility to track your package at all times. And once it gets to you, we make sure that inside you have everything you need for advanced brute forcing 🙂
Interested in PandwaRF Rogue Pro, our RF tool for cybersecurity professionals & advanced users?